Blog
You get what you need.
This past weekend was the Chevron Houston Marathon. I wanted to make a solid debut here but you can't always get what you want . . .
***This post is long! For a brief synopsis you can scroll down to the images and point form notes:)***
Training had been going really well for Houston. I nailed almost every workout and only had a few terrible runs during the taper when I felt super tired. But I knew I was ready and I hit all of my paces in my tune up workouts leading into the race. We flew out of Vancouver on Thursday and with the long day of travel Josh decided it would be a good day to take off. That was fine with me. We had two easy 8k runs on the agenda for Friday to try to get the plane out of my legs. For my evening run Josh had me add in a 2k tempo section and I managed to run 3:33, 3:31 despite feeling a bit lethargic. Saturday was just an easy 6k with 4 strides in the middle. I was feeling relaxed and everything was moving easily.
I knew my body was in good form and ready to roll. Mentally, I was feeling excited to go. For the marathon it felt like such a long taper and I was antsy! I have never felt so ready to get a race over with (in a good way!) I had one worry and that was my sleeping. I did not sleep a wink on Wednesday night, Thursday night, or Friday night. I tried everything I could think of to try to relax and fall asleep in bed but nothing seemed to help. At one point I woke up Josh in tears at 3am — yep, I was going crazy. All I could do was try to be as rested as possible and remember that a lot of people have issues sleeping and it is still possible to run a fabulous race. Saturday night wasn't much better but I think I might have been able to get a couple hours of sleep before my 3:30AM alarm went off.
Race morning was finally here! I made coffee in the room, sipped on my sport drink, and then went down for a bit more coffee in the hospitality suite. We had to be on the bus at 5am to depart for the start line so there wasn't too much time even thought the race started at 7am. On the bus I took an imodium 90min before the race start just to be safe. At the start line we gathered in a heated tent. It was quite cold out (40F) but perfect conditions to run fast. I did an easy 15min warmup with Krista and Rachel and my legs felt really good. I felt like I was floating — even though I know we were running really easy — regardless, I knew this was a good sign. I changed into my flats and took a gel. I think we were all shivering with 15 minutes to go until the race start. It was a breezy and I was trying my best to stay relaxed in those final minutes when they had us corraled behind the line.
When the gun went off if was a slow jog off the line since we were buried a bit further back in the pack. Krista and Rachel were beside me and we worked our way through the masses and established a good rhythm. At 1k I glanced down at my watch and noticed we were a bit slow but nothing to panic about — I think I was about 3:42. I knew what paces I wanted to hit but I was mainly focussed on my 5k splits to keep me from constantly looking at my watch every kilometre. At 5k I was 17:39 which was perfect. Our goal was to be under 17:45 for each 5k. It felt easy and I was getting my bottles smoothly. The next 5k was 17:13 and I can't figure out why it was so much faster but I think there must have been some downhill section because I did not intentionally pick it up. Either way I was relaxed and focussing on my form and getting my bottles successfully.
Then my stomach started to flip on me. I didn't panic though. I decided to use the bathroom and hoped it was a one time thing. I stopped around 15k to go and then continued on my way. At this point when I exited the bathroom the African peloton went by all in line behind their course record pacer. They had been doddling the first while and it looked like they finally decided to run fast which I completely expected to happen eventually. I tried to get back in a rhythm and not be swept up in their faster pace. Unfortunately within the next 5k I knew I was going to have to use the bathroom again which I did around 20k. I was becoming a bit discouraged and I was also in more discomfort. My legs felt good though, everything felt easy but my pace was being hampered by my stomach.
I went through half in 1:14:50 which was a little slower than I wanted to be but I had stopped twice and my pace was slowing due to the pains in my tummy. My biggest worry at this point was that I knew this was going to keep happening — possibly causing me to stop every 5k. I had to decide what to do and I thought about it in-depth as my pace became more and more hampered by my stomach as I approached 25k. I knew I would have to stop again. I still don't know if it was the right decision. I keep thinking that maybe I could have still run a decent time but standard definitely would have been tough to come by. It's never easy to drop out of a race. Never.
I know there are some people out there who think I didn't pace this properly. Well I beg to differ. I was following the race plan knowing that the course was harder in the second half. Every marathon simulation workout I have done has been targeting 3:30-3:33/k pacing and each one of those workouts was a success so I am confident in how I went out and how I felt during the early stages of this race.
So now what? I have decided to target a few half marathons including First Half half marathon in Vancouver on February 14. Hopefully I can run a fast time on a not so fast course. The goal is now to try to get standard to be a part of the World Half Marathon Championships in Cardiff, Wales. In regards to the marathon I will definitely be giving it another shot in the spring and I am extremely excited to toe the line again!
Finally, I wanted to recognize Rachel Hannah's Houston performance. She ran another marathon pb of 2:32:09 in her third marathon ever to finish 6th. Even though she is still a bit of a newbie to the marathon world she has a wealth of knowledge that she generously shared with me. I look forward to toeing the line with her in the future!
So to end this extremely long post, and since I don't have any pictures from the race, here is a little illustration of things I have gleaned from my first marathon attempt at the Chevron Houston Marathon.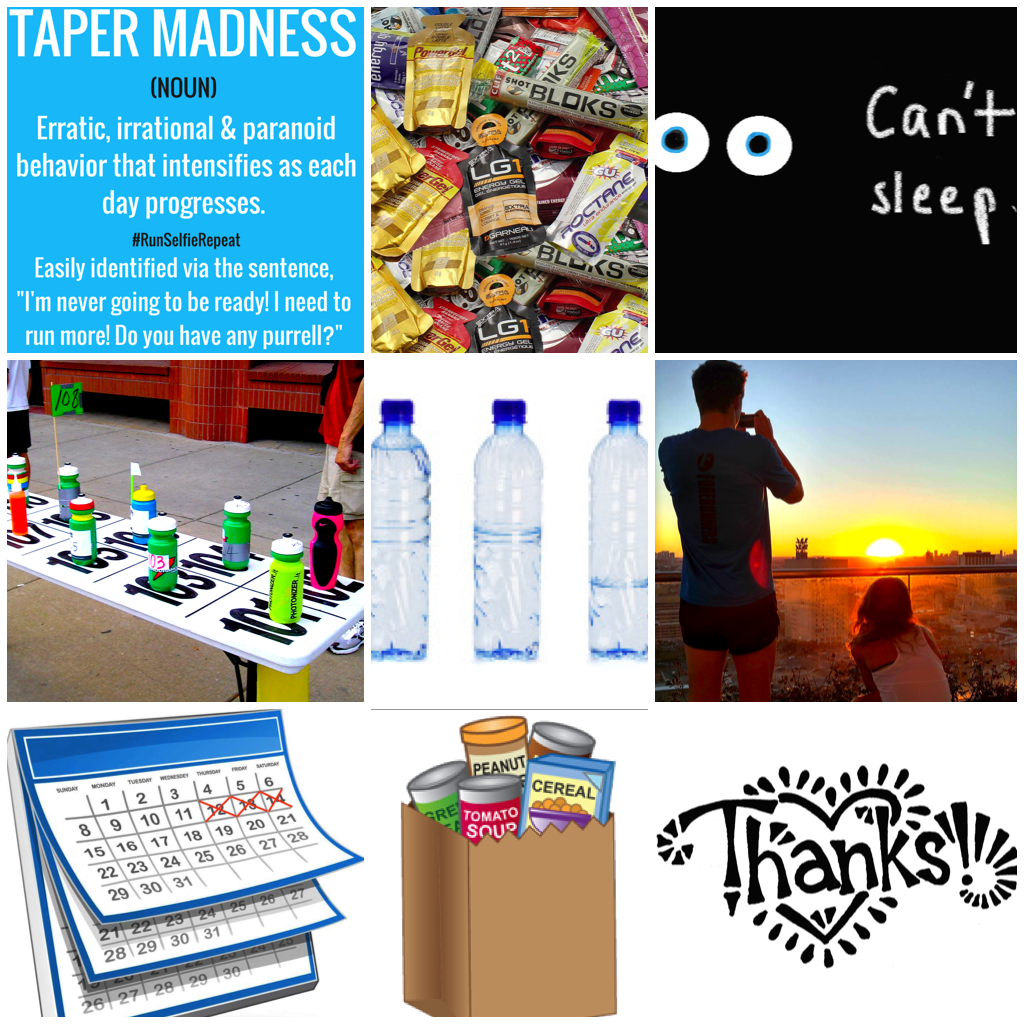 1. I don't taper that long very often so now I know that it is normal to go absolutely mad and feel like death.
2. I will experiment with other race gels throughout my next training block to see if some go down easier.
3. It is possible to still feel decent on no sleep -- next time I won't stress so much about a small bout of insomnia (though not ideal, it is not a make or break issue.)
4. Grabbing bottles off the tables is pretty easy -- I feel more confident about it now!
5. Drinking bottles is still something that feels like hard work even though I practice every week. I am going to fill up my race bottles with less fluid in the future.
6. I can be confident in my fitness. I am biomechanically sound, healthy and strong. This was one race and there will be many more.
7. I know I can benefit from a more structured 3 day nutrition plan leading into the marathon to help prevent issues with my sensitve stomach.
8. A lot of people suffered from food poinsoning in Houston either before or after the race. Though it is impossible to say if that is what happened to me it is better to be safe and in the future I will bring a lot of my own food.
9. And lastly, thank you so much for all the support! I have felt so encouraged by the running community, friends and family:) You really helped me keep my chin up!!!