Blog
Just trust.
So the summer came and went. Most of the mid-summer months after the Canadian Half Marathon Championship were spent trying to get my shin inflammation down. Unfortunately, when your posterior tibialis is angry, it can stay angry for a long time. I spent much of June and July doing some running and a lot of cross-training. Eventually it subsided enough to allow me to increase my mileage and get back on track. At this point I was very worried that we were behind schedule. We had our eyes on debuting the marathon this fall and it seemed like things were just not where they needed to be. And then it happened. Things just seemed to click. By August and September I was nailing every workout and long run and slowly a quiet confidence crept over me and I thought "maybe, I just might be able to make it through this training block and toe the line."
So the plan is to debut at Scotiabank Toronto Waterfront Marathon. It is coming up quickly! A part of me wants time to stand still — I'm not ready yet! Do you ever feel like you are completely ready? Somebody please answer this for me! I have thought about it and I think that when it comes to a debut at an un-run distance, you can't really ever know. You do, however, have to trust.
My first race back to open up my fall season was the Canadian 5K Championship as part of the B&O Yorkville Run in Toronto. It was a good opportunity to get in a fast workout and sharpen up on the mental edge of racing. Going into the race I wanted to be competitive and vie for a podium spot. I knew that would not be easy since I had almost no workouts that approached that kind of pace, and I knew the top girls were going to be around that 16-low area, but I had to try. I have run this course before and knew that it started out with a gradual downhill and then switched to a gradual uphill at halfway. At the gun I went out quickly, letting Natasha go since there was no way I was going out that hard. I remained in second as we went through 1k in 3:04 and 3k in 9:42 (Rachel Hannah and Laura Batterink) were close behind. Then the uphills took their toll on my marathon-training legs and I felt like I immediately reverted to marathon pace. I tried to keep the turn-over going and press hard toward the finish line, but my legs were heavy and I was not able to respond when I was passed by Rachel and Laura. I finished 4th in 16:25 and was a bit disappointed but I think when you are training for a marathon or any distance that is significantly longer, you have to be okay with not being able to run fast at the shorter distances. So that's how it was and I took that race as a great learning experience, a good rust buster, and a sign that my fitness was in a good spot.
Six days after my first race of the fall we were back in Vancouver lining up for the Vancouver Eastside 10K on a very wet and rainy Saturday morning. In my mind I was really hoping that it was going to hurt less than the 5k — I knew it would still hurt but I hoped that it was less of a leg-burning ordeal. It did feel much better! The 10k course is another course that starts with a very large downhill, rolls along a bit, and then you finish with a long uphill up to the start. Again, from the gun I took advantage of the downhill and tried to stay with the top girls. Natasha took off within the first 3k and I gained some separation from 3rd going through 5k in 16:36. I felt relaxed and strong and knew that I could have a strong showing here which was motivating! I pushed on through the undulations and tried to attack the long and final hill. Hills are certainly not a strength for me, but in the end I clocked a 33:59 and maintained my 2nd place. It was a decent result for me and another indication that things are on the right track.
Now it's time to head down to sunny California and get after the half marathon distance at Rock 'n' Roll San Jose. It's a big week of training for me so I am hoping that my legs respond and feel at least somewhat chipper for the race this Sunday. Looks like a good field has been assembled and it certainly presents and opportunity to run fast! You can check out the elite field writeup HERE. I'll let you know how it goes!
Below are some pictures from the last two weeks of races. And, if you are in a blog-reading mood this weekend you can check out an article I wrote for the Canada Running Series on "Setting Race Goals" and discover how I prepare for a race in this article: "What's in my Race Bag".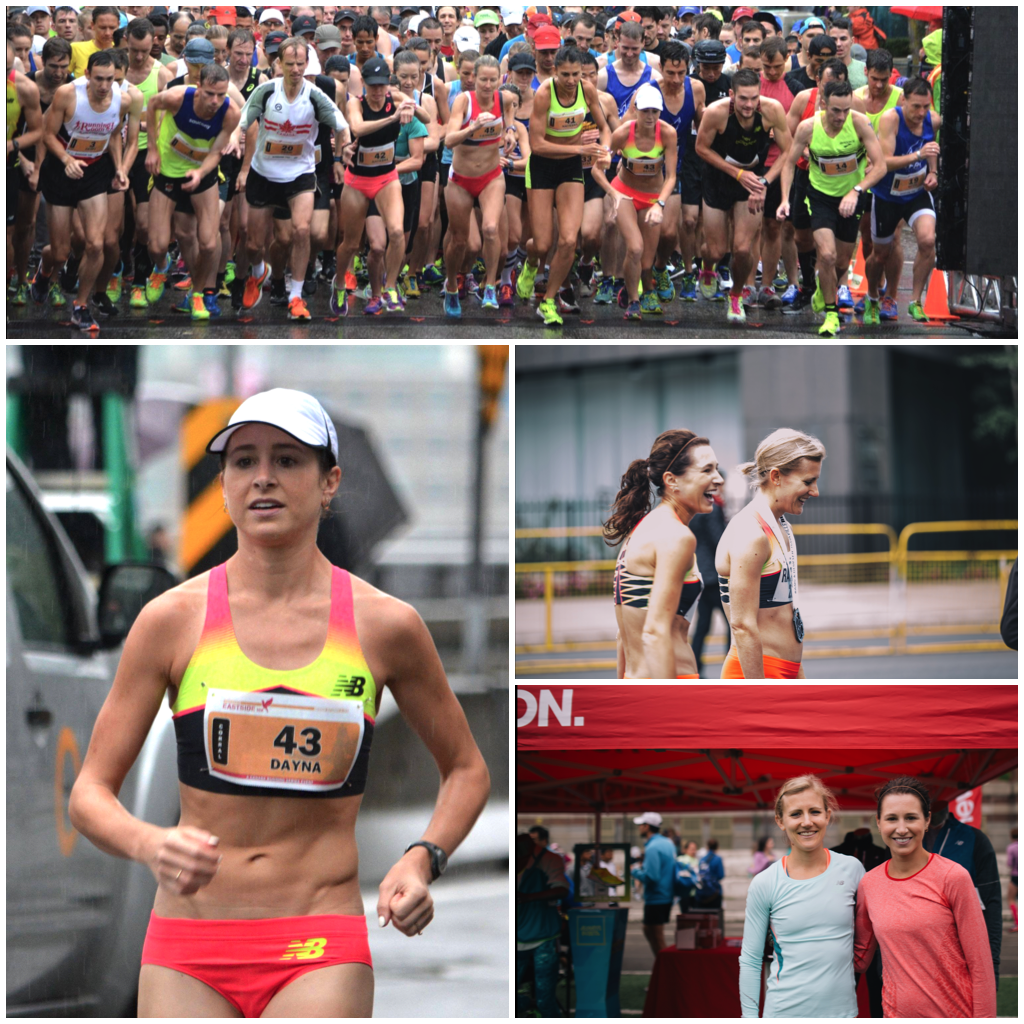 ^^ Start of the Vancouver Eastside 10K and mid-race when the fun begins (p.c.: Dave Burroughs)
^ Rachel Hannah and I post-race at the CDN 5K Champs #TeamNB