Blog
Here's to the new year:
one filled with love, happiness, and new pbs!
Beginning where I left off, I experienced my first indoor track race in many years at the beginning of December. My races turned out about how I had expected. The 1000m was scheduled to go first so I did a 5K warm up, some new drills we are implementing, a couple strides, and I was ready to go. I may have gone out too fast but at that point in my training it was hard for me to know what I could handle and what was too much -- either way I was leading for the first few laps and then was overtaken in the last two. My legs were burning and my inexperience at that distance combined with my lack of speed work made it a difficult race. I was 5th and ran 3:05 which is ok since I have nothing to compare it to -- yeah pb! Following the race I went outside for a 1K shakeout jog before the start of the 3000m. This race felt much easier to me and went by faster than I ever remember it doing in university -- guess that's what happens when you're use to racing for over 30 minutes and I'm sure my long intervals in practice over the years (i.e./ 3k repeats) have strengthened my mind too. Time-wise the race was not fast -- I have done repeats on the track faster in recent years, but it was a respectable 10:10 and at the time was a good indicator of my fitness after having completed only a week of speed workouts.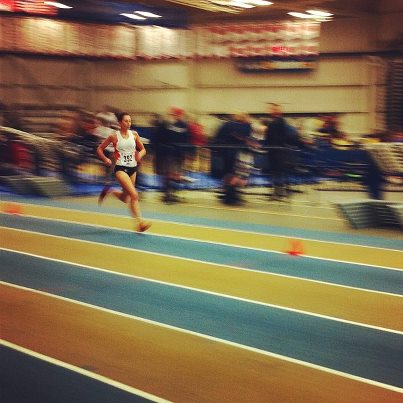 So that was the race, and then the setback that followed was a short but harsh bout of bronchitis (I am blaming it on the indoor track air -- or my long hiatus from it). Normal training resumed after a few easier days and I got back into the swing of things just in time to move into a warmer climate. My parents, Josh and I headed down to Nuevo Vallarta, Mexico to soak up the sun the week before Christmas and it turned out to be just what I needed. Our days were spent training, sunbathing, reading, going for walks on the beach, and enjoying the gourmet food! It was a fun group to be around (Josh and my parents are hilarious at the dinner table:) In regards to training I managed to get in a little over 100K which is what I was scheduled to achieve that week. Some runs were on the beach, which felt more like weight training when my shoes filled with sand, and others were on the roads outside the resort which felt much more secure and safe than I originally expected it to. One day Josh and I were doing mile repeats on the road about 4K from our resort and the taxi drivers who set up in the middle of the road were clapping and cheering as we ran by -- too bad they didn't have a water station! I really hope we can make this vacation a tradition in coming years -- great times had by all!
After some fabulous Christmas celebrations and a low key New Year's Eve I have had lots of time to think about this passing 2012. It was certainly a tough year for me but I think I have grown more this past year than ever. The challenges and adversity that I dealt only brought to light things that I can improve on in the coming year. I am excited to see what I can do in this new year -- I have a feeling there are good things to come:)